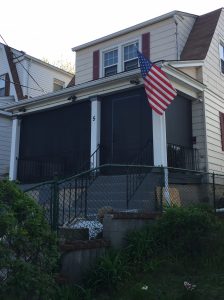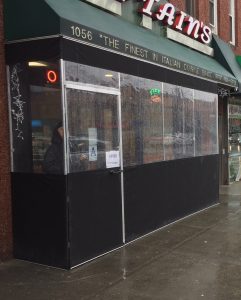 An enclosure is placed at the door of an establishment/home to serve as a barrier between the indoors and outdoors. These can be placed either on the inside or outside of your business to ensure that your customers stay warm during the fall and winter, keeping heat in and the cold wind out. No space is too large; we can cover entire patios and porches with our winter enclosures.They can also be used as a comfortable waiting area for your guests, especially in conjunction with a small heater.
Our expert builders can create a custom enclosures to fit the needs of any business! You can choose the number of windows, the materials, colors, optional skylight, and logos or designs that can make your vestibule completely unique, allowing your business to stand out on any crowded street.
Your enclosure shouldn't just be functional, it should also be beautiful! We'll help you to perfectly match your business' aesthetic by making your winter enclosure any color you require. Your company's logo can be added to the material or even onto the windows themselves using high-quality, vinyl decals.