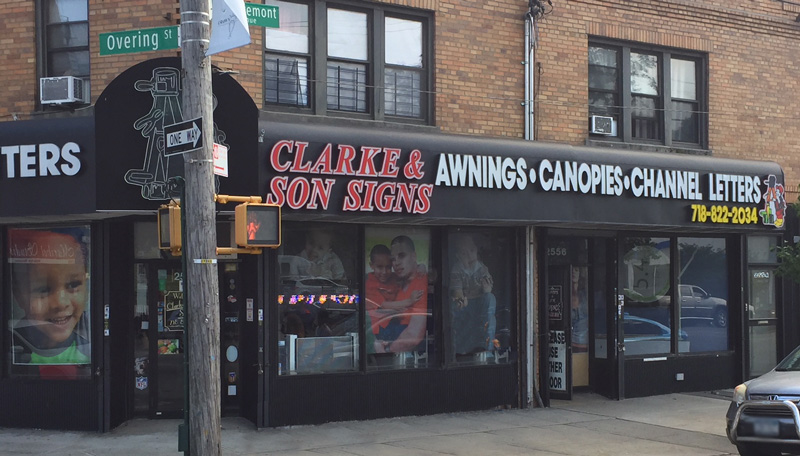 Clarke & Son Signs...
…is a family owned and operated business that was established in 1998 out of the residence of Mr. Juan Clarke Sr. Work took place there for two years before they made the move to 2556 East Tremont Avenue Bronx, N.Y. 10461 (718) 822-2034. Clarke & Son Signs has been operating out of this location ever since. After over 20 years of dedicated service, we are proud to announce our recent expansion to are New Clarke & Son Signs location on 6667 Broadway, Riverdale N.Y. 10471 (347)980-2666 where we hope to continue our excellent customer service and outstanding quality of work.
Manufacturing
One of the most important factors in choosing a sign company is the quality of the sign's material and construction.
We utilize the highest quality materials and the most up-to-date equipment available to provide you with a sign or awning that will proudly display your business identity for many years to come.
Our staff has experience in the area of sign and awning fabrication and this is clearly evident by the work that our shop produces and the overwhelming number of satisfied customers we have serviced in the past.
The versatility and dedication of our staff ensure your work is professionally produced in a timely and expeditious manner. We are prepared to take on any project that you may have, big or small and we are confident you will be impressed with the attention to detail or designers give and satisfied with the finished product you receive.
Contact us today and allow us to create quality signs and awnings.
We service the entire Tri-State area, specializing In the Bronx, Manhattan, Westchester, City Island, New Jersey, & Connecticut.